Date
Friday, 30 November 2018 (all day). Social programme starts 29 November.
Venue
University of Greifswald, Historical Institute Building, Domstraße 9a, 17489 Greifswald, Germany
Application deadline
15 October 2018. Late applications will be considered on a space-available basis.
Public event
Friday, 30 November 2018, 17:30–19:00, at the workshop venue
Contact
Philipp P. Thapa at philipp.thapauni-greifswaldde
| | |
| --- | --- |
| Thursday | 29 November |
| Afternoon | Arrival |
| 19:00 | Get-togetherKulturbar, Lange Straße 93 |
| 19:30 | Presentation and discussion of Céline Keller's work on the utopian potential of zombiismPresented by Susanna Layh |
| Friday | 30 November |
| 09:00 | Morning sessionRoom 3.09 |
| 12:00 | Lunch |
| 13:00 | Parallel sessions IRooms 3.09 and 3.06 |
| 14:45 | Tea and coffee break |
| 15:15 | Parallel sessions IIRooms 3.09 and 3.06 |
| 17:00 | Tea and coffee break, workshop tour preparation |
| 17:30–19:00 | Public keynote address and workshop tour'Beyond Consumerism: A Utopian Perspective on Catastrophic Environmental Breakdown'Gregory Claeys, Royal Holloway, University of LondonRoom 2.05 |
| 19:30 | DinnerBrasserie Hermann, Gützkower Straße 1 |
| Saturday | 1 December |
| | Departure, late-leaver activities |
Public event
Friday, 30 November 2018, 17:30–19:00 at the workshop venue
Keynote address: Beyond Consumerism — A Utopian Perspective on Catastrophic Environmental Breakdown
Gregory Claeys, Royal Holloway, University of London
The looming prospect of eco-catastrophe in the mid- and late-21st century is the greatest problem humanity has ever faced. Avoiding this disaster involves shifts in politics, economics and in personal attitudes towards consumption, production and work. This paper focuses on the possibility of altering our attitudes towards consumer society in particular, and contends that historical arguments against luxury in 'utopian republican' texts of the 17th–19th centuries help to illuminate the part of our later modern problem, if not the solution. Suitably updated, ideas of voluntary simplicity can be wedded to the abolition of planned obsolescence in order to substantially modify existing patterns of consumption.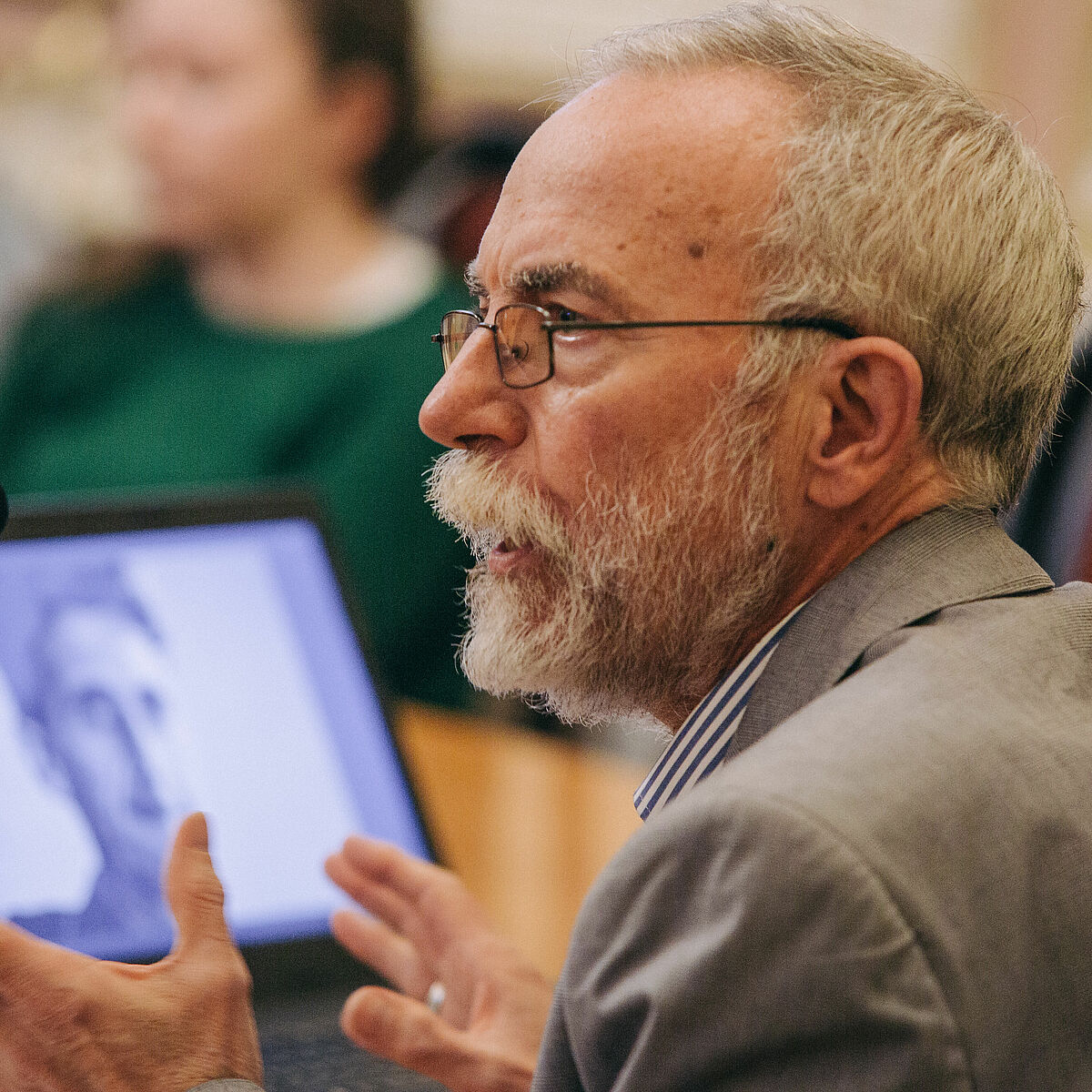 Gregory Claeys won the 2018 Cantemir Prize, an award recognising contributions to humanistic scholarship, ​for his recent book Dystopia: A Natural History. His other books include Machinery, Money and the Millennium: From Moral Economy to Socialism (1987), Searching for Utopia: the History of an Idea (2011), and Marx and Marxism (2018). In addition, he has (co-)edited The Cambridge Companion to Utopian Literature (2010), The Cambridge History of Nineteenth Century Political Thought (2011), and some fifty volumes of primary sources and edited essays. He received his PhD from the University of Cambridge in 1983 and has worked as a scholar in Canada, Germany, Australia, Japan, Vietnam, China, and the U.S. Since 1992 he has been Professor of the History of Political Thought at Royal Holloway, University of London. In 2015 Claeys was elected to the Academia Europaea, History Section. In 2016 he was elected Chair of the Utopian Studies Society (Europe).
Workshop tour
After the keynote, there will be an opportunity to socialise as workshop participants present results from their day's work.
Venue
University of Greifswald, Germany
Historical Institute, Domstraße 9a, 17489 Greifswald
Building Domstraße 9a is located in the inner courtyard area of the University's main building. You can access this area either from Domstraße or from Rubenowstraße (see map, red markers). The main station for trains and buses (Bahnhof Greifswald) is shown in the lower left corner of the map.
Accomodation
Most available rooms in nearby hotels have been reserved for the workshop through the respective two nights. Thus, even if you want to book independently, please co-ordinate with the workshop organiser.
Planning your trip
Participants should plan to spend two nights in Greifswald, from Thursday, 29 November, to Saturday, 1 December. Several small hotels are available in the inner city area, in walking distance from the workshop venue (but see above).
There are direct train and Flixbus connections from Berlin to Greifswald (3–4 hours). Train connections from Hamburg usually involve stopovers, but there is a direct Flixbus service (both 4–5 hours). If arriving by regional train (Regionalexpress, UBB), get off at Greifswald station, not Greifswald-Süd.
If you see no other option than to travel by airplane, Berlin Tegel Airport (TXL) is the most convenient destination. There is a once-daily direct Flixbus connection from Terminal E to Greifswald.
Once you arrive at Bahnhof Greifswald (train and bus station), you are only a few minutes' walk away from the workshop venue, your hotel, and most of Greifswald's historical sights.
---
Purpose
To foster the regional network of utopian scholars and creatives working in the German-speaking territories and neighbouring areas of Central and Northern Europe, loosely defined.
To direct attention to the important but understudied relationship between utopia and ecology—including but not limited to ecology in utopian narratives, theory, and ethics as well as utopian thinking in environmentalism, sustainable development, or socio-ecological innovation.
Target group
While there are no formal criteria, ideal participants will self-identify as utopians, be interested in collaborating with others in the field, and have relevant previous experience or current project immersion to drawn on for the workshop. Their work focus will fall along a spectrum from academic research to utopian art, including independent scholarship and activism.
Notwithstanding the regional focus (see above), we welcome applications from scholars and creatives based elsewhere in Europe and beyond, especially if they have previously engaged with ecotopianism.
The workshop language will be English.
Workshop format
We aim for a small seminar-like group size, anything from half a dozen to two dozen participants.
Participants will not present papers. Rather, they will use more informal and collaborative ways to share and develop their topics, insights, and questions. We anticipate a morning session that will concentrate on participants learning about each other's work, and an afternoon session focused on producing some sort of tangible outcome. The results will be presented during a concluding workshop tour for the local academic and creative communities.
Social programme
The workshop programme includes two social evenings, as well as activities and spaces for early arrivers and late leavers on Thursday and Saturday, respectively. We recognise that many of the best conversations take place outside formal sessions and want to give them all the room possible. Travelling to Greifswald for just one day is a lot to ask. Should you consider to extend your stay over the weekend, talk to us for advice and assistance.
Mit freundlicher Unterstützung der Sparkasse Vorpommern