A tree for my university - donation campaign within the scope of the research project "Sustainable Forest Conversion"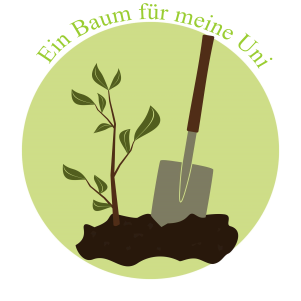 Donate as an university alumni, as a student, if you belong to the staff or just if you are interested so we can plant a tree on university property!
Please click here to download the flyer (in German)
Donation status (12.02.2021)
"Forest of the future": 1,497.50 €
"Fruity treat": 3,599.05 €
"Griffin's wisdom": 1,040 €
"Broad-leafed trees": 225 €
donation sum chosen by oneself: 1,023.35 €
Total: 7,384.90 €
Donators: 194
We would like to thank all generous donors for supporting our campaign!
About the campaign
Research project
"Sustainable Forest Conversion" is a research project that deals with the sustainable development of the university's property around Greifswald. Thereby, it follows the global goal to use our resources in a sustainable way. In the project we scientifically explore the manifold functions of the local forest with different ecological methods.
The donated trees will be planted on university property. Research will be done regarding their function as CO2 sinks. By taking up and sequester CO2 the trees can contribute to compensate for the university's CO2-emissions. The compensated CO2-emissions will be attributed in the "CO2-neutral university" project.
Donation campaign
The donation campaign "A tree for my university" is part of the research project "Sustainable Forest Conversion". Staff, students, alumni and external people can become a godparent for a tree. With your donation you support in the scope of our sustainability research the planting of indigenous tree species. By doing that you help to convert monocultural forest areas in nature-oriented mixed forests stands and to plant and maintain traditionally managed orchards.
We are in contact with the responsible persons of the university's administration to find suitable areas to plant the trees. We will inform you in advance about the progress and planting actions on this website, or write an email to the project coordination if you want to keep informed about planting actions via email.
Several options for your donation are available:
1. "Fruity treat"
Donate for a fruit-bearing tree as part of a traditionally managed orchard. The trees will most likely be planted on backyards of several instituts and on other suitable areas close to Greifswald. Preferably we will plant regional tree species. The first planting action is planned for spring 2014.
2. "Forest of the future"
Donate for the afforestation with different indigeneous broad-leafed tree species like beech, oak or maple.
3. "Griffin's wisdom"
Donate for the permanent protection of a full-grown tree in the university managed forest.
4. I would like to support the project with a donation sum chosen by myself.
This money will go into the project that is still short in money when the planting day is already coming up.
Donation bank account
Beneficiary: LZK M-V für EMAU Greifswald
Name of the bank: Bundesbank Rostock
Bank address: Richard-Wagner-Straße 2, D-18055 Rostock
SWIFT code / BIC: MARKDEF1130
IBAN: DE26 1300 0000 0014 0015 18
Payment reference (Verwendungszweck): 7121 180 003 096 + the option you have chosen
Note: Quoting the payment reference is absolutely neccessary! Otherwise your donation cannot be attributed to the campaign.
Donations of 50 € or higher can get a donation receipt. Please contact us if you consider this option.
Imprint
Research project "Nachhaltiger Waldumbau"
Prof. Martin Wilmking, Ph.D.
Institut für Botanik und Landschaftsökologie
Soldmannstr. 15
D- 17489 Greifswald
Contact person
Dr. Tobias Scharnweber
Email
Tel: +49 3834 420 4188
botanik.uni-greifswald.de